Be Part of the Housing Solution
When you join our internship program, you'll gain real-world experience from one of the nation's leaders in affordable housing. Work with innovators, creators and problem solvers to gain experience that goes deeper than a resume. We've also been named by Virginia Talent + Opportunity Partnership (V-TOP) as one of the 2023 Top Employers for Interns.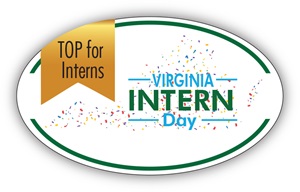 Internships are offered either year-round or during summer.


Interning with Virginia Housing means you'll take part in meaningful, mission-focused projects. As an undergrad or graduate student, you will make an impact in one or more business areas while developing a set of business skills and earning your degree.



"I've worked on multiple projects during my internship which gave me the opportunity to see different sides of Virginia Housing. My favorite part is feeling welcomed by my team and that my contributions are seen & heard."

- Colleen Campbell, Housing Education Intern




"I have enjoyed my internship at Virginia Housing a lot. It has been a good place to work and learn. I have learned a lot about the IT field in a very short period of time."

- Ryan Wolfe, End User Services Intern




"My internship experience has been very welcoming. The tasks are always interesting since it involves many HR departments with step-by-step details on how to do things efficiently and correctly."

- Even Pham, Human Resources Intern




"I've been immersed into the pipeline of deals from start to finish. Every individual I've met within Virginia Housing welcomes me into their department with open arms. My exposure to every aspect of affordable housing has been incredible."

- Julia Devereaux, Capital Markets Intern
What Your Internship Will Look Like
Throughout your internship, you will work with a specific department to complete important projects and assignments to advance our mission of bringing attainable housing to Virginia. We offer internships with our IT, Community Outreach, Capital Markets, HR, Legal, Risk, Executive and Internal Audit teams, giving you choice in your area of interest.

You can work up to 20 hours while attending classes and up to 40 hours during summer break.

We offer a hybrid work structure with flexible hours and a competitive pay of $17-$20 per hour.

Plus, you will receive dedicated mentor support and professional development opportunities — but most importantly, the chance to make a difference.

Applicants must be an undergraduate or graduate student at an accredited institution and have the ability to legally work in the U.S. for an indefinite period of time. A resume is required for consideration.

Preferred software skills include: Microsoft Suite (Outlook, Word, Excel, PowerPoint) and web-based video conferencing (Zoom, WebEx, MS Teams, etc.).

Application Process

Here's what you can expect throughout the application process:

Step 1:

You will receive a confirmation email once your application has been submitted.

Step 2:

Our recruitment team reviews all applications and will reach out to qualified candidates.

Step 3:

If you are selected, you will meet with Virginia Housing associates for an interview.

Step 4:

Our recruitment team will keep you posted throughout the process.



Positions fill quickly, so we urge you to apply as soon as possible. We accept applications until positions are filled or until the application deadline.

Contact us